About Bunny Terry
I'm Bunny Terry, and I'm here to help you!
Thinking about moving to Santa Fe? Wondering how to understand neighborhoods near the Historic Santa Fe Plaza or something with a stunning view of the Sangre de Cristo Mountains? Maybe you need to sell quickly to move to another locale. Whether you're a longtime resident or just surfing the web and considering the possibilities, my team and I are here to help you navigate the process. My website and hashtag say it all – I LOVE Santa Fe Homes, along with the people I get to meet every day in the process. Every year that I've been in business in Santa Fe, my business has doubled. It's because of the combination of market knowledge and small town service I bring to my clients.
I'm a native New Mexican, born and raised in Quay County, in the northeastern corner of the state. I've been visiting Santa Fe my entire life. Several years ago I decided to follow my dreams and relocate here permanently. Living in Santa Fe is a dream come true for me!
I brought my real estate license with me and joined Keller Williams in August 2014. Prior to that, I was a partner at Ute Lake Premier Properties in Logan, New Mexico, selling everything from $35,000 bare lots to million dollar ranches. I was also a partner in Dos Rios at Ute Lake, a lakefront development of 92 lots, from start to finish, bare ground to completed lakeside luxury homes. In other words, if it has a deed attached to it, I know how to sell it. Or help you buy it. Or develop it. The Logan/Ute Lake experience was invaluable – having had the privilege to work with every type of seller and buyer for over ten years was the best real estate education I could have asked for.
I'm grateful every day for the perfect clients this business brings me. My team and I work together so that my sellers and buyers can realize their greatest goal – whether it's obtaining the home of their dreams or marketing and selling one of their largest investments, their Santa Fe home. There's a chance that if you call me between 9 and 11 a.m., you'll have to leave a message. That's when I'm prospecting, searching for buyers for my listings or properties for my buyer clients.
I'm also grateful to serve at the Keller Williams Santa Fe office as a member of the Associate Leadership Council. Only the top 20% of KW brokers are asked to serve on the ALC, with only 12 brokers chosen from those top-ranked Realtors. Being chosen by my peers for this leadership position is both an honor and a privilege.
My team consists of me along with Melisa Marioni, a bilingual Santa Fean who serves as my marketing director and who uses her real estate license to help locals find exactly what they need, and Richard Hudson, a hard-working and dedicated buyer's broker who also serves as the team's operating manager. We all wear a lot of hats, which makes us well-rounded and well-versed in what it takes to provide our clients with a concierge experience. We attend training on a weekly basis and hone our skills so that your expectations are more than met.
I'm a member of the Board of Directors of Cancer Foundation for New Mexico, a local nonprofit dedicated to making sure that every cancer patient who seeks treatment in northern New Mexico will be able to do so. We provide financial help for everything from gas cards to lodging to grocery cards. This is truly grassroots care for the people who need it most. I'm currently serving on the Steering Committee of the Sweetheart Auction Committee for CFFNM.
You can find out more about my favorite charity here: http://cffnm.org/ In 2017, I was the model for the CFFNM survivor scarf. Here's the photo that Eric Olsen used to create a beautiful silk scarf, the proceeds of which benefited Northern New Mexico cancer patients.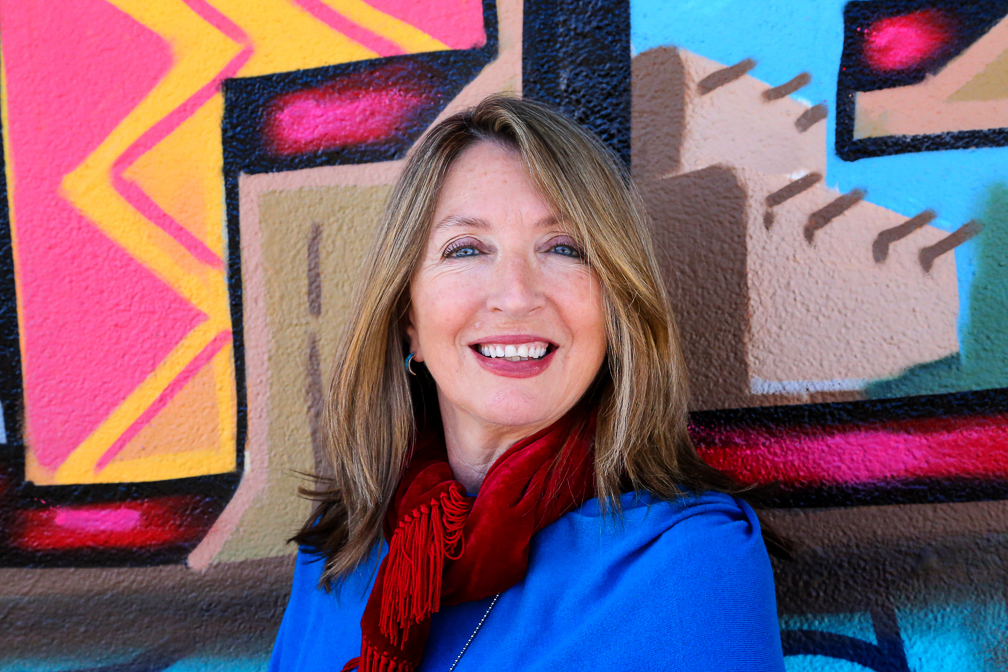 I'm a very active supporter of ArtSMART Santa Fe, a local nonprofit devoted to keeping arts in schools in Northern New Mexico. I'm involved in volunteering and teach little kids at Christ Church Santa Fe, and I have donated countless hours of my time to Fight Colorectal Cancer, fundraising locally and lobbying at the national level for increased funding for cancer research and changes in accessibility to screening for colon and rectal cancer. As a survivor of stage iv colon cancer, I believe strongly in "To whom much is given, much is required." I very happily and gratefully volunteer for those causes that are near and dear to my heart.
On October 8, 2015, I was honored to be the organizer of and a speaker at the Ottmar Liebert and Luna Negra fundraiser held at the Lensic Performance Center. As a result of Ottmar and the band's incredible generosity, and also due to the hard work of a lot of volunteers helping me, I was able to raise over $30,000 for Fight Colorectal Cancer.
But I'm not all work and no play. I love New Mexico and all it has to offer, writing a well-followed blog by the same name. Feel free to drop by and check out the blog that is "all things New Mexican" from family stories to travel advice to recipes for my Grandma's Chocolate Pie to when you should plant your tomatoes in Eastern New Mexico. 
As a real estate broker, I'm committed to professionalism in each and every transaction. I maintain a strong work ethic and believe that the client/broker relationship is a partnership built on honesty, trust, confidentiality and mutual respect.
But more than that, I like my job. I like matching people with other people, sellers with the perfect buyers, buyers with a home that will make their Santa Fe life as magical as mine is. I tell folks I'm a happiness facilitator, building lifetime relationship with my clients.
Give me a call. Let's get started on this journey to fulfill your Santa Fe Real Estate dream!