New Year's Eve in Santa Fe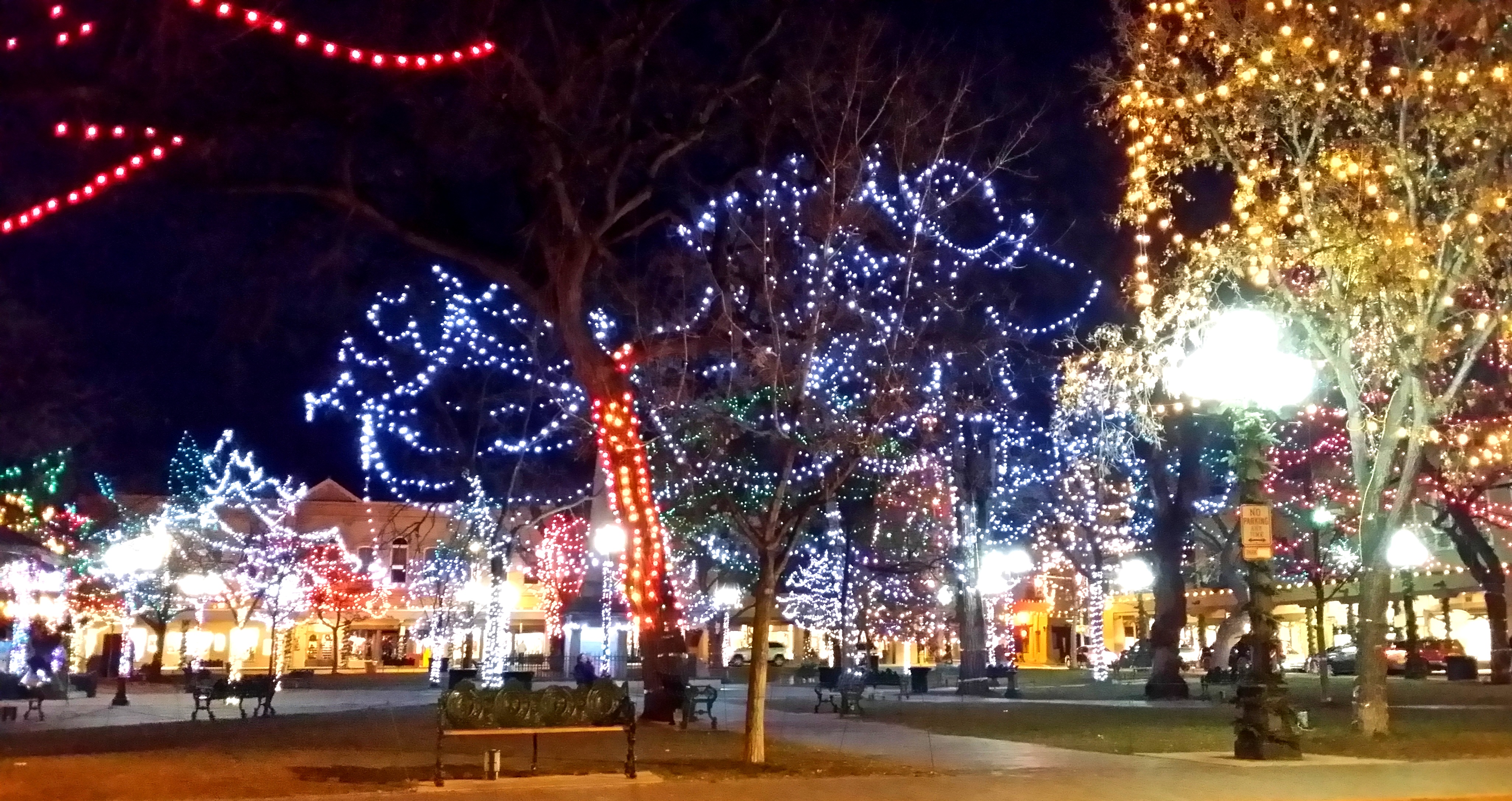 Whether you're ready to say adios to 2016 or not, today's the day. And if you're lucky enough to be spending the holidays in Santa Fe, there's a great offering this evening to help you greet 2017 with a bang.
Bundle up and head to the Santa Fe Plaza this evening at 8:45 for the Second Annual New Year's Eve on the Plaza. The city promises to have ample stationary heaters and several pinon bonfires to help keep you warm, along with a warming tent for families with small children, the elderly, and any emergencies that might arise.
To celebrate the conjunction with Hanukkah, there will also be a traditional lighting of the Menorah.
Rivera Family Service and the Santa Fe Hispanic Chamber of Commerce will provide hot chocolate and biscochitos for a small donation to the local Big Brothers and Big Sisters organization, while the Kiwanis Club of Santa Fe will give you a space to write down your lofty hopes and dreams for a prosperous Nuevo Ano on a memorial banner.
Alex Maryol (one of my personal favorites), Nosotros (okay, another of my personal favorites), and Sol Fire (not yet one of my favorites, but I just need to spend some time listening to them), all local musicians, will rock (or salsa) you right into the New Year.

At 11:45, Mayor Javier Gonzales will address the crowd and usher us into 2017. Nothing drops (this is the City Different after all), but a tin Zia crafted by a local Spanish craftsman will be raised. We'll then sing the traditional Auld Lang Syne and Las Mananitas to welcome what we all hope will be a magical New Year.
It's a totally family friendly event and will be attended by lots of locals. You can check it out on the event Facebook page here: https://www.facebook.com/events/1814656288806579/ or at a dozen other sites like Tourism Santa Fe NYE at https://santafe.org/NYE/.
Here are notes listed from the Tourism Santa Fe site about how to get there and parking. Party goers are encouraged to shuttle downtown from Santa Fe Place Mall if at all possible.
Parking and Getting Here
Parking: Parking in all city parking facilities will be free after 8:00pm. Meters will operate as normal until 6:00pm. Certain meters in the vicinity of the plaza will be bagged for police and fire use, and public parking in those spots is not permitted. Be sure to keep ADA clear for those with valid placards and loading zones clear for delivery vehicles.
Road Closures: San Francisco, Palace, Lincoln and Old Santa Fe Trail will all be closed around the Plaza. Drivers are encouraged to avoid West Palace from Grant to Lincoln due to event activity.
Transit: The City is encouraging as many people as possible not to drive, especially if they will be drinking at any point in the evening.
A free express shuttle will be available from 9:15pm – 12:15am from Santa Fe Place Mall to the Sheridan transit center. It will run continuously throughout the evening, and will stop at the El Rey Motel on the way into downtown and at the Marriott Courtyard on the way out of downtown. Normal bus service ends at 8:00pm on Saturdays.
On the Plaza: Attendees are advised to dress warm and reminded that no alcohol consumption is permitted on the Plaza. For convenience there will be 20 space heaters, 12 luminarias or bonfires, and a warming tent for families with small children, the elderly, or emergency use. Hot chocolate, coffee, and hot tea will be available for a small donation to Big Brothers Big Sisters Mountain Region, and food trucks will be able to park in the designated spaces on Palace/Lincoln.
Get Home Safe: Santa Fe County will be providing affordable taxi rides home – $5 for 1-2 riders, $10 for 3 or more, between 5:30pm and 2:30am. Call (505) 438-000.
YOU MAY ALSO LIKE